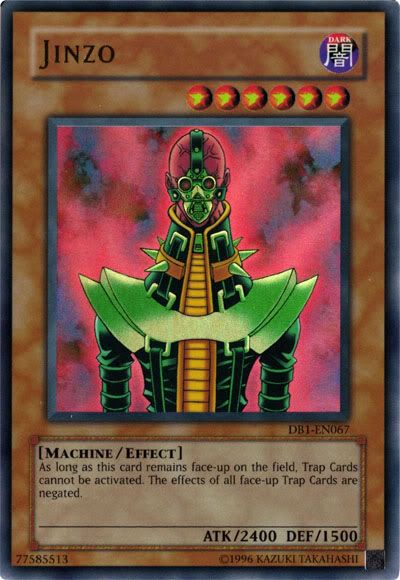 Muchos monstruos de tributo han tenido dias de gloria, desde los inicios con "Summoned Skull", hasta la invasion de los monarcas en el campo competitivo del juego.Pero no hay que olvidar a Jinzo, uno de los primeros monstruos de un tributo en pisar la banlist y que actualmente ha sido jubilado.
Jinzo tiene un efecto muy simple.Cuando este en el campo, todas las trampas no se pueden activar y las bocaarriba pierden sus efectos.Esto hacia que mazos que dependen de las trampas como Burn las pasen canutos contra el Psycho Shocker.Tambien nos ofrecia que si nuestro oponente activaba "Heavy Storm", resucitar a Jinzo mediante "Call of the Haunted" nos permitia tener un monstruo potente listo para cualquier cosa.Tambien hay que añadir de que Jinzo por razones obvias no sera objetivo de cartas como "Bottomless Trap Hole" o "Torrential Tribute" al ser invocado, lo que limita a que Jinzo solo pueda ser contrarrestado al ser invocado mediante una trampa counter como "Solemn Judgment" o "Forced Back".
Aunque Jinzo basicamente prevenga gran parte de las cartas jugadas durante la Battle Phase, no detiene a magias (sobretodo Quick-play) o efectos de monstruos que podrian acabar con el androide en un momento.Esto se arregla facilmente si conseguimos otro monstruo que apoye a Jinzo.Monstruos como "Spell Canceller" o "Horus the Black Flame Dragon Lv8" negaran las magias, mientras que "Destiny Hero-Plasma" se ocupara de los efectos de monstruos.Parecera tarea imposible tener a tres de estos monstruos en el campo al unisono, pero podemos descartar los monstruos que niegan magias si recurrimos a unos cuantos spellcasters y su campo "Secret Village of the Spellcasters".
Lord of Destruction le dio una segunda oportunidad a este monstruo clasico del juego mediante la version en miniatura conocida como "Jinzo-Returner".Combinalo con "Future Fusion" para invocar a "Chimeratech Overdragon", enviando 3 Jinzos y 3 "Jinzo-Returners" (Junto al obligatorio "Cyber Dragon"), para asi poder invocar al instante 3 Psycho Shockers que estaran en campo durante ese turno, pero que serviran para poder generar una gran cantidad de daño (Sobretodo si lo combinamos con "Limiter Removal", ya que estos monstruos seran destruidos de todas formas).
Jinzo se ha convertido en un veterano de guerra en el mundo de Yu-Gi-Oh!.Alabado por todos, este monstruo ayudo a muchos mazos durante muchisimos años, y ahora ha sido completamente olvidado, ya que la gente prefiere llevar en sus Side Deck "Royal Decree" antes que un monstruo que dejo una gran marca en el juego.
Valoracion: 4,3/5